K5 Seattle: Starbucks to hire 10,000 vets, military spouses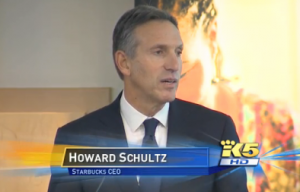 Giving thanks was sort of the theme at Starbucks Headquarters. The company is showing its gratitude in the form of jobs for returning veterans.
"There is a problem in America. And the problem is that there's not a soft landing for many of these people," said Starbucks CEO Howard Schultz.
As many as 10,000 veterans and military spouses could land at a Starbucks near you. The coffee giant is just the latest major corporation to sign up veterans for jobs that have been hard to come by.
Keep reading and watch the story here! http://ow.ly/qFtba
What is Conscious Capitalism?

Donate Today

Make a one-time donation of any amount using the PayPal button below. Alternately you can become a member on our

Membership

page.