Forbes: Interview With Container Store President Melissa Reiff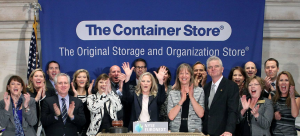 Did you know? Kip [Tindell, Container Store founder] was actually the college roommate of John Mackey, the founder of Whole Foods (WFM) and the author of "Conscious Capitalism."
"The idea is that capitalism should not be a zero-sum game. It can benefit all stakeholders, whether employees, customers, vendors, the community or shareholders. A company has the responsibility to do right by all of them.
We really believe in this and think it can create great companies." - Melissa Reiff, President of The Container Store
Read more from Melissa's interview with Forbes here! http://ow.ly/qEx1n
What is Conscious Capitalism?

Donate Today

Make a one-time donation of any amount using the PayPal button below. Alternately you can become a member on our

Membership

page.